RRH - Remote Radio Head
Next generation networks have increasingly adopted Remote Radio Head (RRH) technology to provide a flexible and scalable network architecture that is easy upgraded. These RRH designs include advanced signal processing technologies such as Crest Factor Reduction and Digital PreDistortion that optimise overall transmission efficiency and reduce the unit BOM cost.
Affarii Technologies makes these core RRH technologies available on low cost FPGA platforms, providing a complete multi-carrier RRH solution with industry leading price, power and performance.
Overview
The Affarii RDU01 3GPP Radio Head is a low cost 3GPP RRH reference design supporting multi-carrier WCDMA or LTE operation with 20MHz modulation bandwidth in a 1x2 or 2x2 MIMO configuration.
The RDU01 reference design includes Affarii's LLCFR01 and DPD02 IP cores providing crest factor reduction down to 6.5dB and 20-30dB of digital predistortion amplifier ACP improvement.
The RDU01 datapath includes a software configurable CPRI data interface and digital up and down conversion blocks (DUC+DDC) supporting one to four carriers of mixed WCDMA and LTE modulation. Ethernet based RRH control is provide by the CPRI fast C&M interface with example interfacing and control code for low cost external host processors such as PIC32 or AVR32 devices.
The reference design provides a complete Remote Radio processing solution with high integration, low power, and low cost.
Features
Mixed LTE+WCDMA Operation.
20MHz of Modulation Bandwidth.
1x2 and 2x2 MIMO Support.
4FA Multi-carrier Support.

CPRI Interface and IQ Switch.
Fast C&M via CPRI Ethernet.
Host Control Code Examples.
Low Power: 1500mW WCDMA.
Block Diagram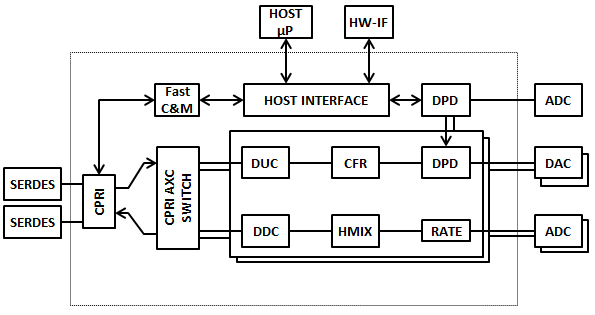 RRU Test System
The RDU01 deisgn is supported with a complete test system comprising:
RRU evaluation unit with 3.072G optical CPRI interface.
REC Emulator with ARB waveform generation and Ethernet C&M.
Matlab based 3GPP test generation and measurement tools.
This test environment allows users to setup 3GPP compliant TS25.141 (WCDMA) and TS36.141 (LTE) BTS conformance testing using commercial test equipment for development and production purposes.

The REC emulator supports up to 32 independent CPRI AxC container streams for multi-carrier mixed mode performance evaluation.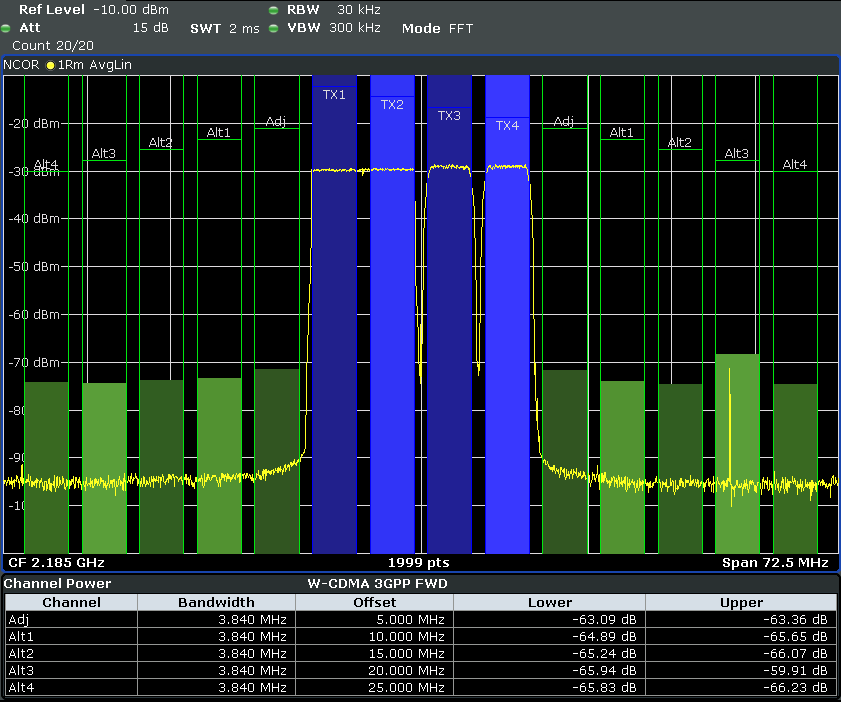 Availability
The RDU01 refernce design is available as a IP block for Lattice and Altera FPGAs as part of the digitalTRX solution set.
For further information please contact sales@affarii.com